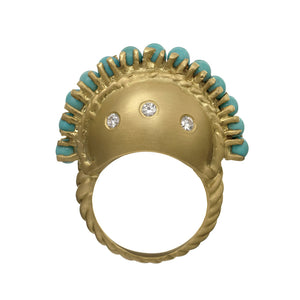 Details
18K yellow gold with satin finish.
Six diamonds.
Turquoise.
Stands 1/2" high.
Handmade in New York City.
As seen on supermodel Bella Hadid. Styled by FUCCI for Paper Magazine editorial.
Designer's Inspiration
Named for the queen of Palmyra who conquered Syria and defied the Roman empire.
Availability
This ring is made to order. Allow 4 to 8 weeks for delivery.