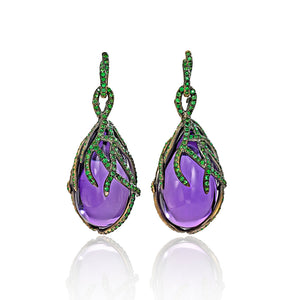 Details
Each amethyst is over 25 carats.
202 tsavorites on each earring.
Handmade in New York City.
Designer's Inspiration
Earrings in the royal colors of purple and green. The creeping, thorn-like prongs convey the way Marie Antoinette was drawn into a frightening situation not of her own making. Recommended reading: Wendy's
Jewel of the Month blog post.
Availability
Only one pair available for immediate delivery.