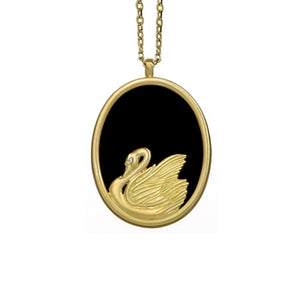 Details
18K yellow gold, satin finish.


Onyx.

Diamond accent.

1 3/4" pendant on 16" chain.

Made in New York City.
Designer's Inspiration
Inspired by Anne of Cleves, Henry VIII's fourth wife, who was born in Schwanenburg (Swan Castle). Fickle Henry started thinking divorce the wedding but Anne was arguably
the most successful of Henry's six wives
. She wisely agreed to an amicable split, won a generous settlement and outlived Henry by a decade.
Care
Refrain from touching onyx directly in order to avoid leaving fingerprints.
Availability
One necklace is available for immediate delivery.