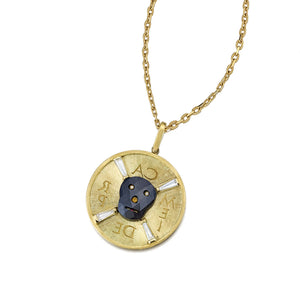 Details
18K yellow gold, satin finish with distressing.
Fancy-cut black diamond in skull shape, totaling 3 carats.
Custom-cut white diamond baguettes, totaling 1.2 carats.
White diamond accent in eyes.
Ruby accent in mouth.
16" chain.
Made in New York City.
Designer's Inspiration
Medallions are worn to invoke guidance, luck, or as a reminder of what you've overcome or where you're headed. This pendant combines the ancient jewelry concept of Memento Mori with modern-day gem-cutting technologies in the form of a black diamond cut into a skull shape. The whole design is filled with markers of the wearer's life -- with white diamond baguettes pointing in all directions, like a turned compass. The Latin phrase "CARPE DIEM" is inscribed as a reminder to live life to the fullest each day, no matter which direction that takes you. Because I intended this medallion to speak to the wearer's personal mantras, the inscription is written in Leonardo da Vinci-style mirror writing, so that the message is clearest when you're looking at your own reflection. This complex and meaningful design took my artisans over a year to create, with attention given to every detail, down to the tiny diamonds and ruby set beneath the black-diamond skull, and the distressed effect given to the gold.
Availability
Only one was ever made.