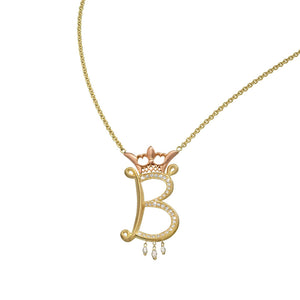 Details
18K yellow and rose gold in variety of finishes.
Diamonds.
Approx. 2" long pendant on 16" chain.
All 26 letters are available upon request.
Made in New York City.
Designer's Inspiration
Watch
Wendy's YouTube video
to learn more about her fascination with Anne Boleyn's famous initial necklace.
Availability
Contact us to order in the letter of your choice. Also available in sterling silver upon request.