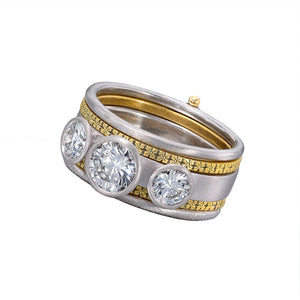 Details
18K yellow gold. Platinum. Heirloom diamonds (customer's own) Five separate bands, attached by 18K gold wire. Handmade in New York City. This ring is for viewing only, it is not for sale. Contact us to create your own dream ring.
Designer's Inspiration
Heather asked for a custom-made, engagement ring version of the Siobhan perma-stacked ring. She had a pair of diamond stud earrings that she didn't wear, so Wendy redesigned those stones as the ring's side stones. She chose a center stone to match the diamonds from the earrings.