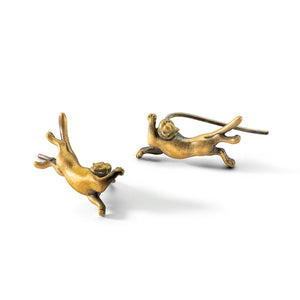 Details
18K yellow gold.
Wire passes through the ear piercing; then the wearer turns the piece so the cat rests on the earlobe.
Handmade in New York City.
Designer's Inspiration
Purrfect for cat lovers. Inspired by FitzRoy, an Exotic Shorthair cat who is the boss of Wendy Brandes and has over 17,000 followers
on Instagram
. He is famous for his habit of sitting in a large orange bowl that matches his fur. This earring climber shows him stretched out and relaxing after a hard day of doing nothing.